Removals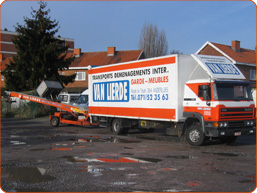 In order to make your move as pleasant as possible, we can, TO YOUR REQUEST:
disassemble and reassemble your furniture,
pack your items (dishes, ornaments, frames, etc.).
We also provide you with (at an additional charge):
cardboard boxes and tape,
bubble wrap,
canvas wardrobes.
On request, the owner will meet with you and discuss your needs before providing you with a quote.
Entrepôt
We own a warehouse where we can securely keep your furniture during the time you need (for example, during renovation work in your house, in the case of an unfinished new construction, etc.).
---